itaca
Visual identity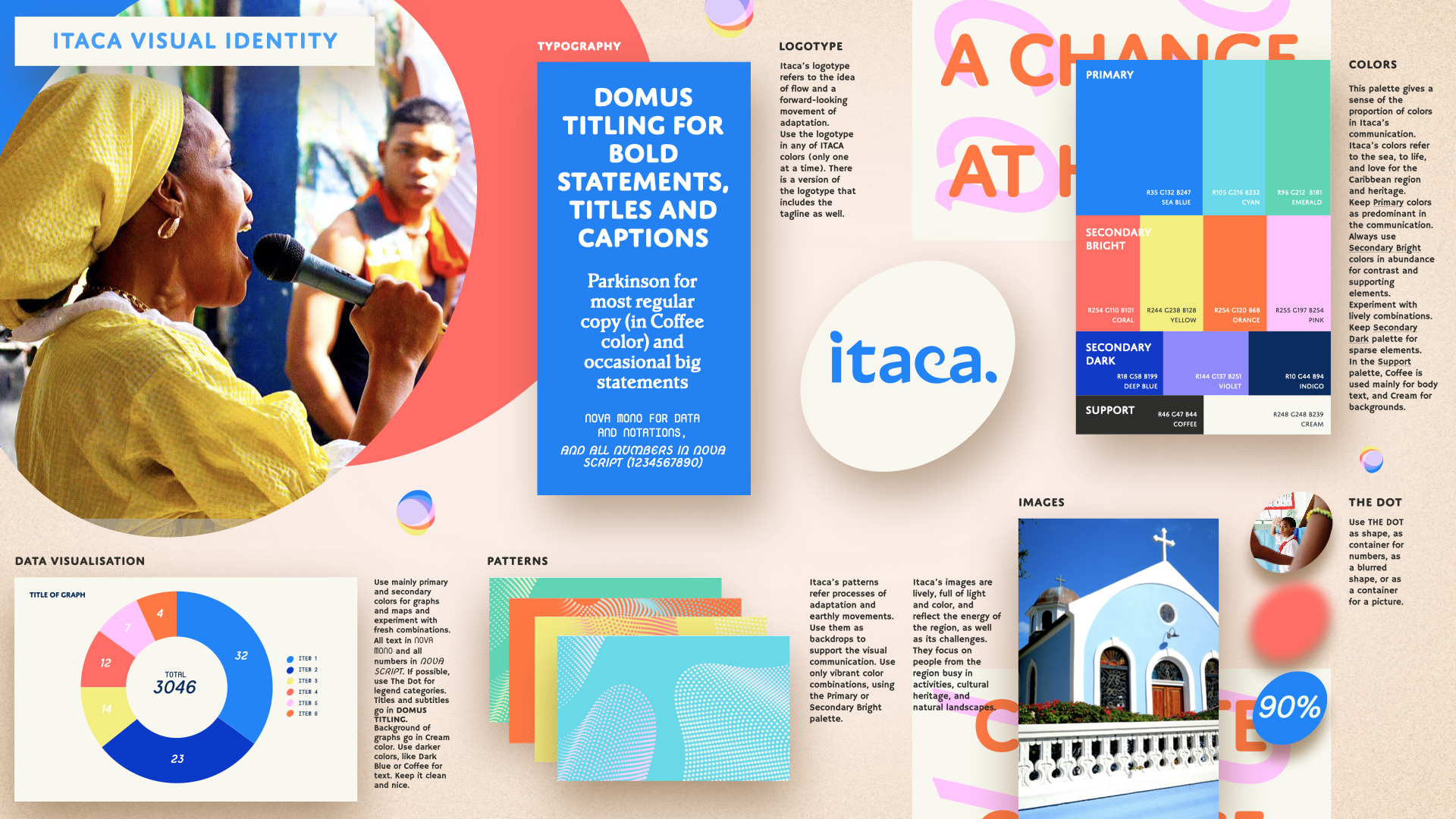 Itaca is a newly born company working with climate adaptation in the Carribean region. Its founder and CEO, Laura Canevari, reached out for a visual identity that could convey Itaca's innovative and courageous approach to climate change.
Coming in at its very start with minimal resources, Itaca needed to develop a strong visual voice of its own.
We defined a set of elements that would need to be drafted from the start, including institutional deck, business cards, social media graphics, a framework for data visualisation and a one-page website.
The visual research focused on defining a fresh, flexible language full of color, life and movement. Itaca's logotype bears a bespoke C conveying a sense of movement and connection with the sea – the main feature of the region in which the company operates.

The identity is built on a system of flexible, bold color combinations to reference both the region and its cultural heritage, as well as the energetic, fresh approach Itaca brings to climate adaptation.
Together with bold colors and gradients, a layered and fresh typography is at the center of Itaca's visual voice, mixing playfullness and rigour.

From the typeface for numerals derives one of the central elements of the identity: "the Dot", a tilted shape used to highlight images and data, and bring layering to the visual language. The Dot is the dynamic lens of adaptation through which Itaca looks at the world.
Patterns in vibrant color combinations referencing the concept of adaptation and movement function as backgrounds and evocative visuals. Starting from a reference given by the client, a pattern of moving land was designed, and its close-ups generate endless variations of color and form.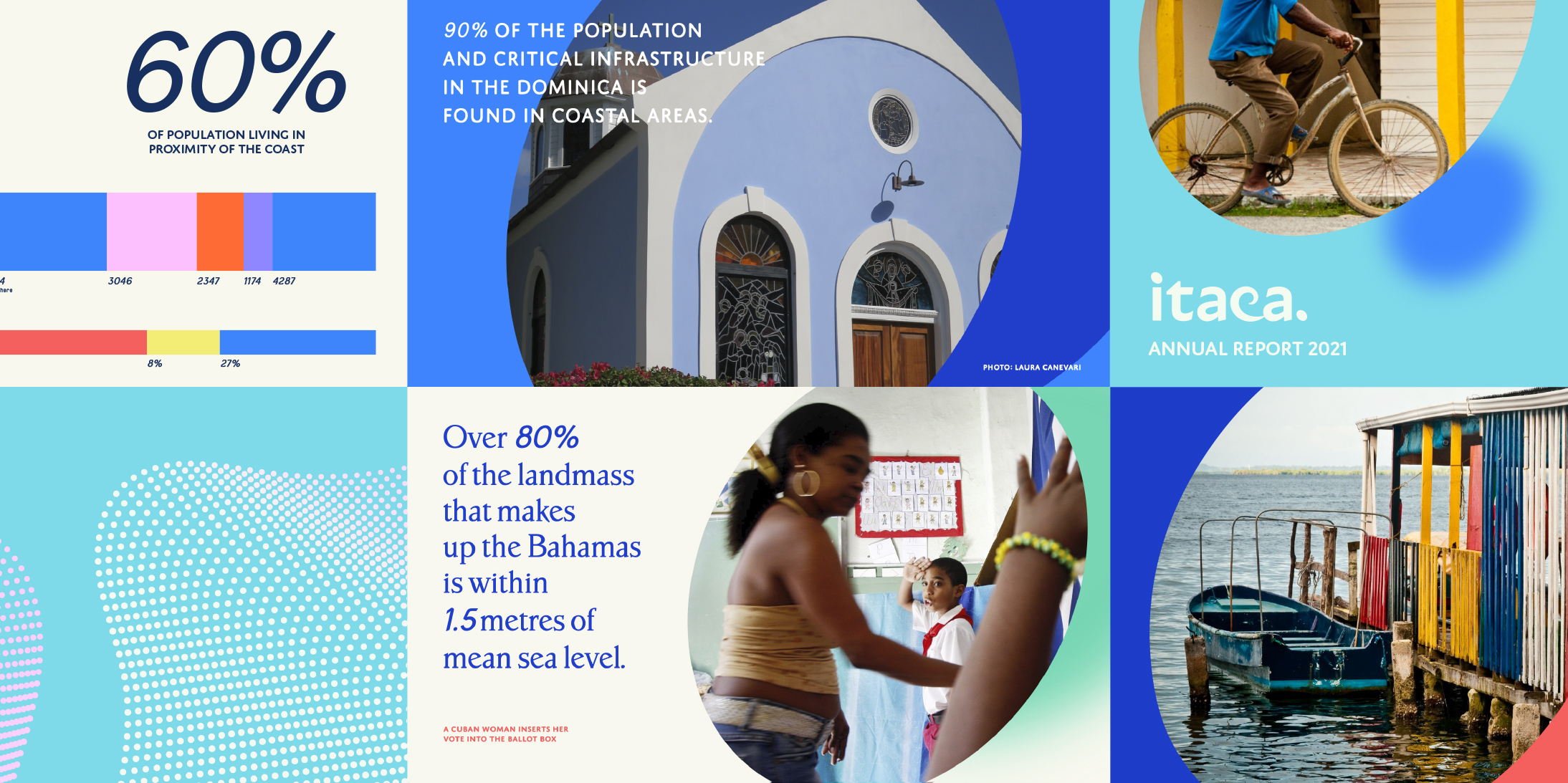 A series of posters with Itaca's core statement and a calligraphic variation of the logotype were designed to express Itaca's ambitious take on its mission.

The one-pager website gets Itaca started with a refined presence online, presenting information in a beautiful, accessible way. The website presents a strong typography, a curated selection of images, user-centered content structure and lively color palette.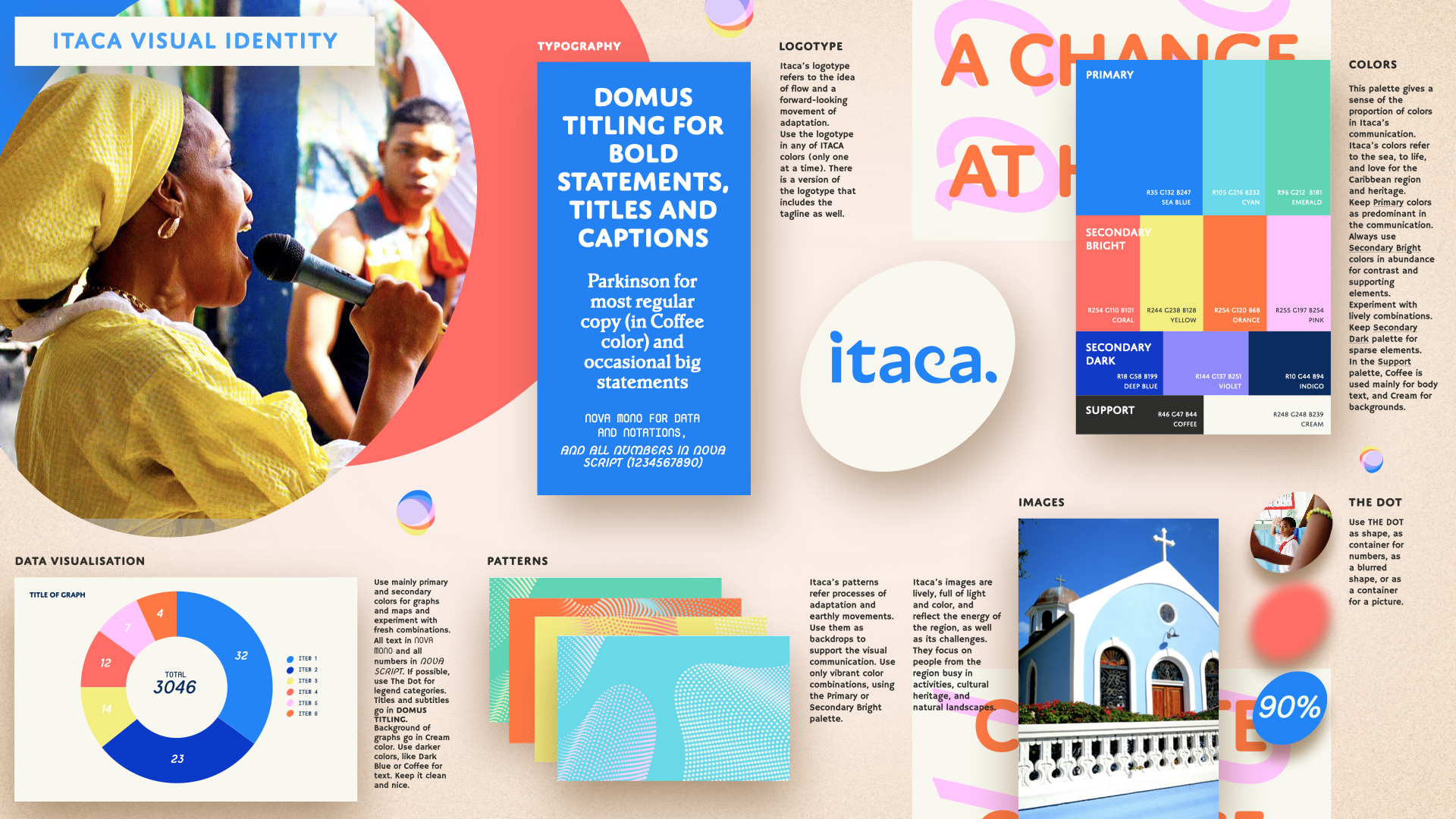 The overview of the brand guidelines pays tribute to

Deborah Sussman's

visual guidelines for the 1984 Olympics in Los Angeles.

The work is currently developing in a package of digital and printed materials, including institutional deck, business cards, social media graphics and templates.


More work ⇣