on visual sustainability
Research on sustainability through visual form
Read an introduction on AIGA Eye on Design:
What Is "Visual Sustainability," and How Can Designers Challenge Power Through Form?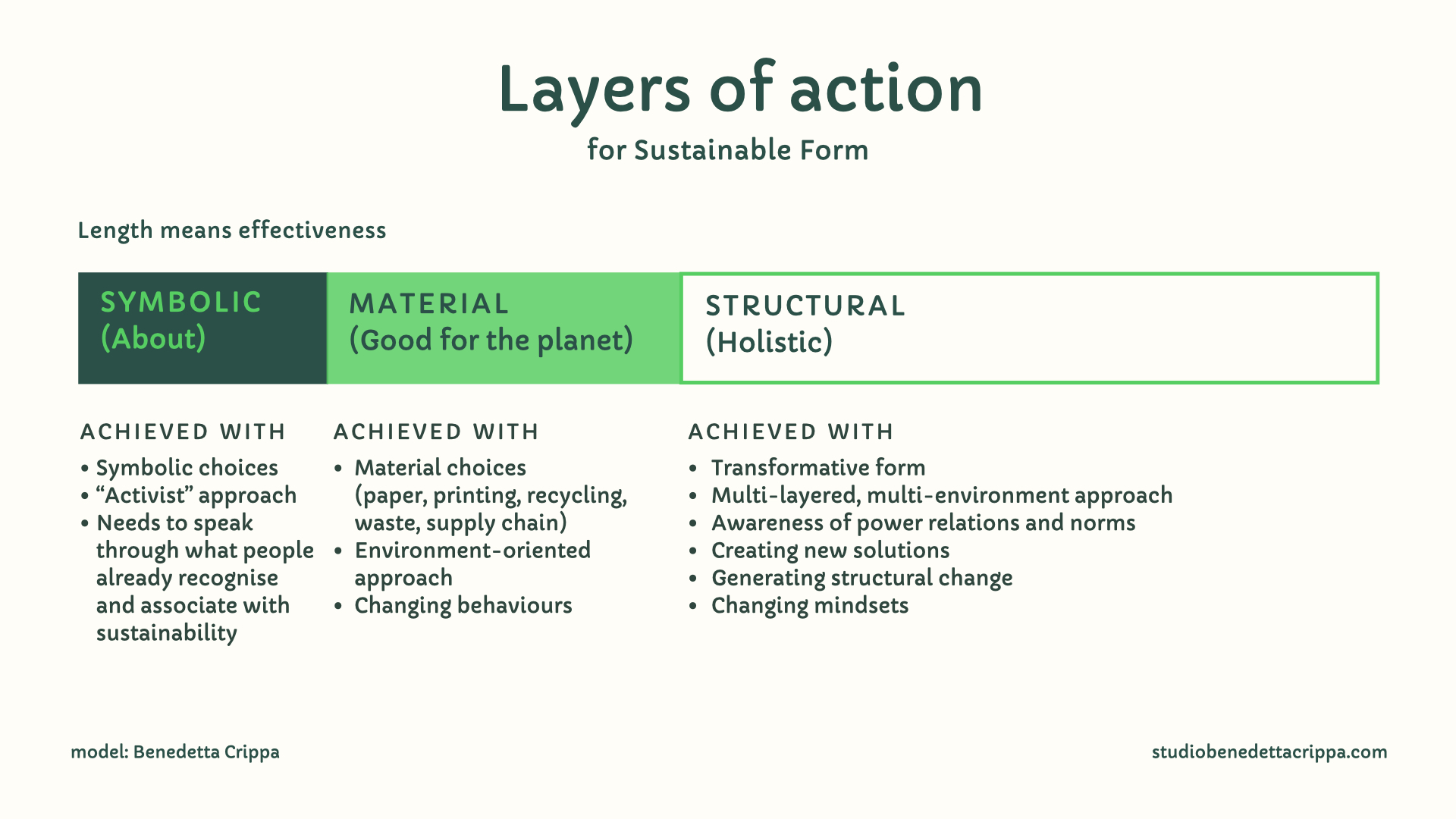 Sustainability has become an urgent question for the visual field, where the discourse around it is often blurry and limited to questions of materials or process. This research presents a largely new approach to the theme of sustainability, bringing the focus on the visual qualities of a design. The research stems from Benedetta's engagement with the social equity sector and as graphic design lead at the
Stockholm Environment Institute
.
Through a feminist, post-colonial approach to form, the research uncovers the role that visuality can play toward sustainable futures, with a focus on structural changes though the aesthetics.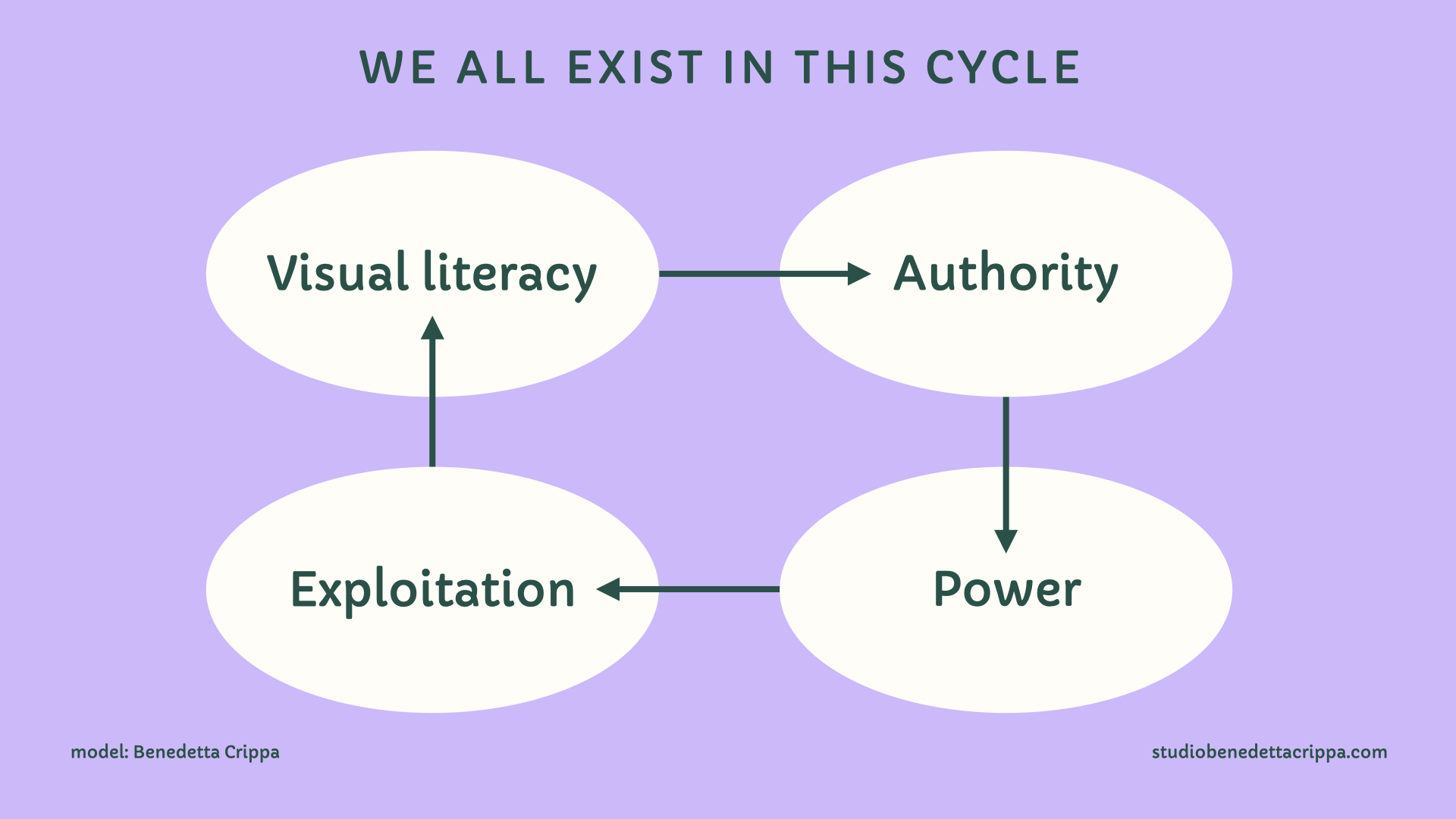 In 2019–2022 Benedetta is guest teacher at the BFA in Graphic Design and Illustration at
Konstfack University
as initiator and director of
the first course of its kind
on visual sustainability, currently at its 4th installment.
The talk "On Visual Sustainability" works well as a comprehensive introduction to the theme. In 2020–2021 the introductory lecture is hosted by
Umeå University
and the
University of the Arts in Bremen
, and is selected for the international design conference
Art of Research
at Aalto University in Helsinki (Fall 2020), as well as the international design conference
Design as Common Good
in Switzerland (March 2021).
In Fall 2020, Benedetta presents the research as invited speaker at
AIGA Design Conference 2020
. A transcript of her interview is published
on AIGA Eye on Design
. In early 2021 she brings the research again to
Umeå University
and the MFA in Visual Communication at
Aalto University
, and in 2022 at the MFA Design at
Oslo School of Architecture and Design
and at the
Stockholm School of Economics.
In November 2021, she presents the research as invited speaker at
Design (Re)Thinkers,
the largest graphic design conference of Canada, arranged by the Canadian national association of graphic designers RGD.
To discuss the lecture or the course for your institution, get in touch at info@studiobenedettacrippa.com
Thank you to Sara Kaaman and Catherine Anyango Grünewald at Konstfack, Sara Teleman, Brita Lindvall Leitmann, Lisa Baumgarten, Anja Neidhardt, Johanna Lewengard, Inna Zrajaeva and the Climate Group at Umeå University, Meg Miller, AIGA, AIGA Eye on Design, Arja Karhumaa, Kunsthall Stavanger, Adam Nathaniel Furman, Alison Place, KATE Design Studio, the Swiss Design Network, the Canadian Association of Registered Graphic Designers (RGD), Riccardo Masiero, Parco design studio, Felicia Nilsson, and the Stockholm Environment Institute for their support of the research
More work ⇣