konstfack DEGREE
EXHIBITION 2022
Visual identity
In 2022 we participated, and won a competition to develop the visual identity of the annual degree exhibition of Sweden's largest art university,
Konstfack
in Stockholm. Each year, Konstfack exhibits the work of about 200 graduating students and the show is one of the main art events in the city, attracting over 10,000 visitors.
We took on this commission in a time when Sweden was recovering from the Covid pandemic, and the university would hold a full in-person show again after two years of digital events. For the first time the exhibition would also be split in two parts, bringing the challenge of attracting the visitors to the school twice.
The project outputs included a website, posters, printed invitations, digital graphics and animations, wall labels, information panels, merchandise, space design as well as indoor and outdoor signage.
Budget constraints where important, so we prepared for a visual system efficient both to design and produce, able to adapt to a number of defined and unforeseen applications.
We started by exploring the concept of "shining through". The exhibition is for most students their first chance to introduce themselves to the world. As they shine through their educational journey, so does the school, as well as the visitors together with them.

'Shining through' seemed also a fitting concept in a time where many of us were reemerging after being forced to shrink down our ambitions and lives during the pandemic. 'Re-orientation' also became a departing point for the design. The identity would help the viewer to re-orient and re-align—and to finally shine through.

The main graphical element of the identity is an oval blue sun (or egg) with shining rays in an uncanny combination of primary colors that pulsates of warmth and energy, applied in a variety of combinations.
We identified two typefaces and designed a set of graphical elements to support the visual system, including custom typography. The result is a visual landscape both consistent and varied, with top production efficiency as well as generous visual expression.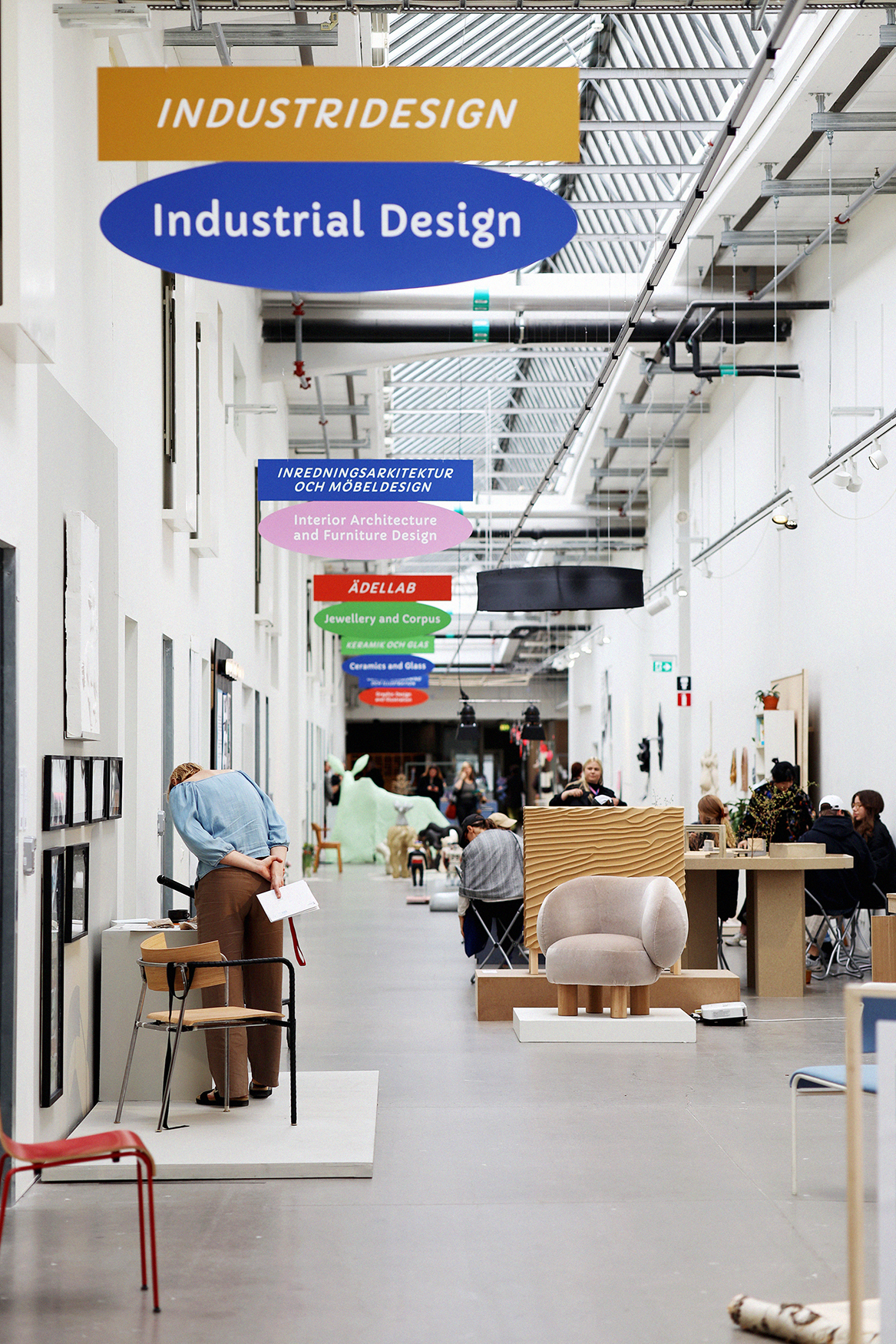 For the wayfinding, against Konstfack's mostly white walls, consistent and distinct colors were important to provide clear orientation while standing out from the artworks. We combined basic forms with both the original, and a custom-slanted version of the typeface Capriola to create a unique system of laser-cut indoor signage, possible to spot and readable from long distance. The indoor signage is produced with minimum waste and 100% recyclable materials, using paper and wood only.

The outdoor signage included a welcoming installation on the main entrance with lasercut green neon rays, celebratory flags and outdoor wayfinding easy to spot in the busy surrounding landscape.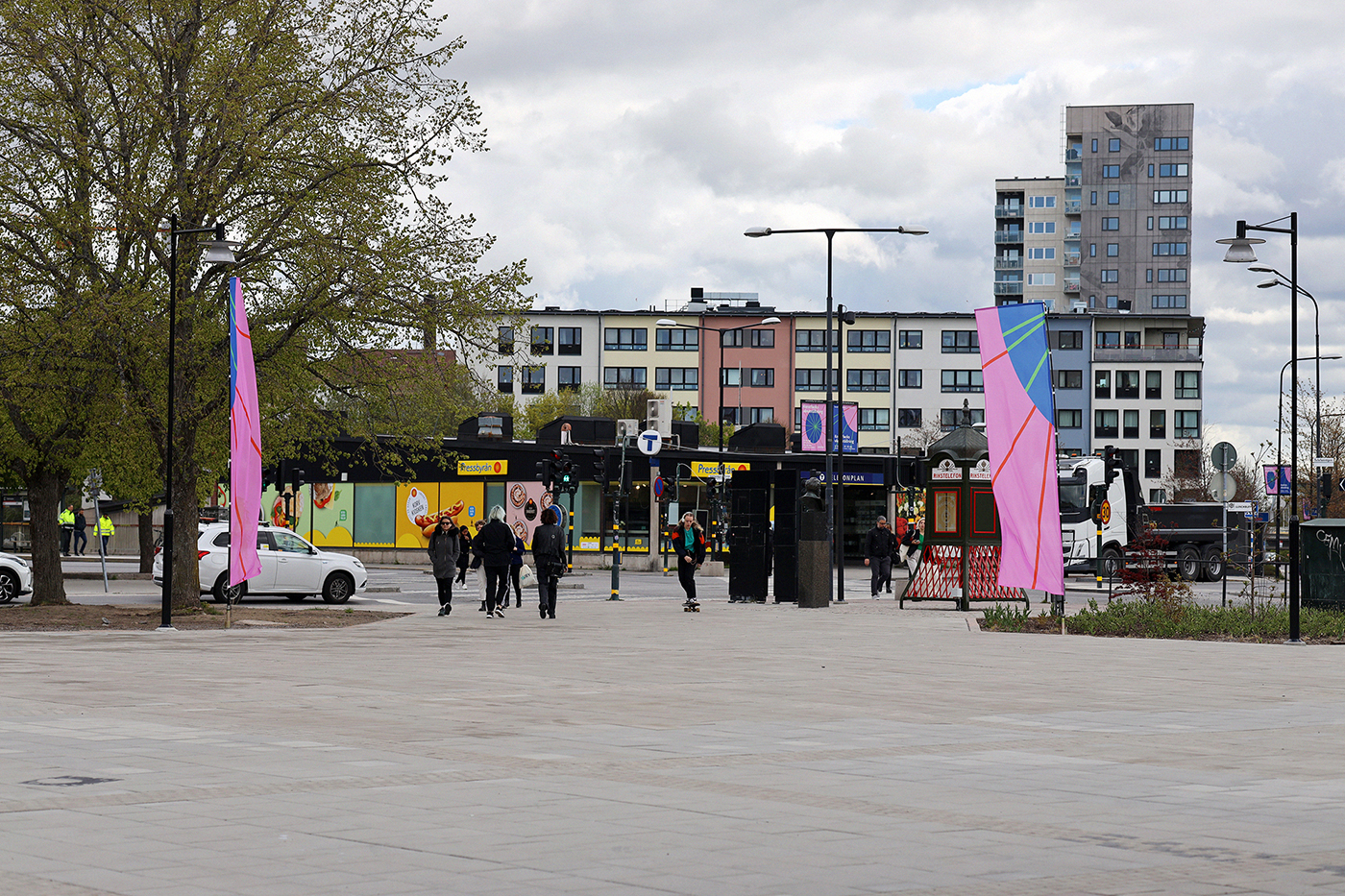 The website, built on a Wordpress-based content structure set by the school to be same each year, is a digital space of warmth, aesthetic presence and clarity.
Responsive, compliant with AA+ accessibility regulations and optimised for efficient energy use, at the time of publication it was ranked more energy-efficient than 97% of websites tested with
Wholegrain Digital's Web Carbon Calculator,
thanks to a smart optimisation of typography, its 500+ images and vector graphics.
We produced social media materials and animations going the extra mile to provide students with straightforward templates for their own use.

Other highlights of the work included a door installation with neon green sunrays, a set of 200 wall labels, visitor's maps, post production of 500+ images, tote bags, keychains and other merchandising, planning production to optimise quantities and material usage.

This was a fast-paced project with many moving pieces and a number of competing hard deadlines. Thanks to our responsive client and our own hyper-efficient approach to project management, we are proud to have completed each part of the work on time and on budget, often delivering ahead for everyone's good night's sleep.


design team
Design and artistic direction: Benedetta Crippa / Studio Benedetta Crippa, Animations: Soja, Design assistants: Elina Birkehag (design, production and wayfinding installation, mar–jun 22), Johanna Lundberg (pitch), Mikaela Cederholm (pitch production), Emilia Velazquez Mospinek (intern, jun 22), Wayfinding production and installation: Holly Keasey, Photo documentation: Elina Birkehag, Print production: Taberg Media Group
konstfack team

Anne Klontz (curator, BA), CuratorLab (curators, MA), Patrik Förberg (event production), Maria Pita Guerreiro (exhibition assistant) Susanne Helgeson (communications), Ivar Johansson (web development), plus the great construction & reception team at Konstfack
More work ⇣